The incident of Baby Sagini whom eyes were gorged has elicited mixed Reactions, leaving people wondering on the inhumane action that was Allegedly succeeded by the main suspect Alex Ochogo.
However, following the probe by police officers to find out the suspects behind the inhumane action, Police Officers managed to arrest Alex Ochogo who has been allegedly accused for mercilessly gorging Baby Sagini's eyes.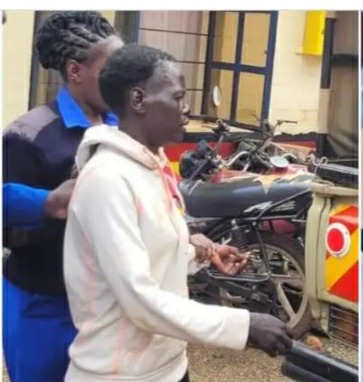 Directorate of Criminal Investigation, DCI detectives have arrested a 60-year-old Pacificah Nyakirario who has been considered as the main suspect behind kidnapping of Baby Sagini before his eyes were mercilessly gorged out.
According to the details, Pacificah Nyakirario was arrested in Nairobi where she fled after allegedly kidnapped Baby Sagini before the eyes were gorged out.
As details indicates by Directorate of criminal Investigation, 60-year-old Pacificah Nyakirario conspired with her son Alex Ochogo to remove Baby Sagini's eyes for bizarre ritual.